Posts for: January, 2019
By Skopek Orthodontics
January 17, 2019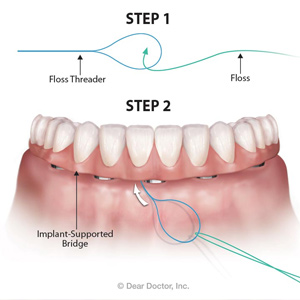 Implant-supported fixed bridges are growing in popularity because they offer superior support to traditional bridges or dentures. They can also improve bone health thanks to the affinity between bone cells and the implants' titanium posts.
Even so, you'll still need to stay alert to the threat of periodontal (gum) disease. This bacterial infection usually triggered by dental plaque could ultimately infect the underlying bone and cause it to deteriorate. As a result the implants could loosen and cause you to lose your bridgework.
To avoid this you'll need to be as diligent with removing plaque from around your implants as you would with natural teeth. The best means for doing this is to floss around each implant post between the bridgework and the natural gums.
This type of flossing is quite different than with natural teeth where you work the floss in between each tooth. With your bridgework you'll need to thread the floss between it and the gums with the help of a floss threader, a small handheld device with a loop on one end and a stiff flat edge on the other.
To use it you'll first pull off about 18" of dental floss and thread it through the loop. You'll then gently work the sharper end between the gums and bridge from the cheek side toward the tongue. Once through to the tongue side, you'll hold one end of the floss and pull the floss threader away with the other until the floss is now underneath the bridge.
You'll then loop each end of the floss around your fingers on each hand and work the floss up and down the sides of the nearest tooth or implant. You'll then release one hand from the floss and pull the floss out from beneath the bridge. Rethread it in the threader and move to the next section of the bridge and clean those implants.
You can also use other methods like specialized floss with stiffened ends for threading, an oral irrigator (or "water flosser") that emits a pressurized spray of water to loosen plaque, or an interproximal brush that can reach into narrow spaces. If you choose an interproximal brush, however, be sure it's not made with metal wire, which can scratch the implant and create microscopic crevices for plaque.
Use the method you and your dentist think best to keep your implants plaque-free. Doing so will help reduce your risk of a gum infection that could endanger your implant-supported bridgework.
If you would like more information on implant-supported bridges, please contact us or schedule an appointment for a consultation. You can also learn more about this topic by reading the Dear Doctor magazine article "Oral Hygiene for Fixed Bridgework."
By Skopek Orthodontics
January 07, 2019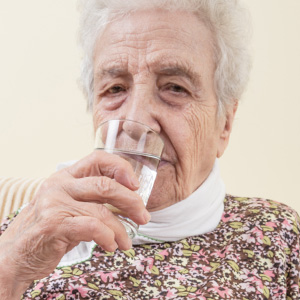 If you were asked to identify the number one mouth problem affecting dental health, what would you name? Toothaches? Poor hygiene? Jaw joint issues?
Believe it or not, the top issue among 15,000 respondents in a recent American Dental Association (ADA) survey was dry mouth. A full one-third of the respondents had experienced chronic lack of normal saliva flow; difficulty biting and tooth pain, took second and third place, respectively.
We've all experienced the discomfort of temporary dry mouth when we first wake up in the morning or after eating certain foods. But chronic dry mouth is much more serious with long-term effects on a person's teeth and gum health. This is because among its other important properties, saliva helps neutralize enamel-softening mouth acid and restores minerals to enamel after acid contact. Without sufficient saliva flow you're much more susceptible to dental disease.
While there are several causes for dry mouth, perhaps the most common is as a side effect to at least five hundred known medications. Because older people tend to take more medications than other age groups, dry mouth is an acute problem among people over 60 (a major factor for why dry mouth took the survey's top health problem spot).
You can help ease dry mouth from medications by first asking your doctor about switching to alternative medications that don't affect saliva production. If not, be sure to drink more water during the day and especially when you take your oral medication (a few sips before and after).
You can help your dry mouth symptoms from any cause by drinking more water, limiting your consumption of alcohol or caffeine, and avoiding tobacco products. You can also use substances that stimulate saliva flow—a common one is xylitol, an alcohol-based sugar that's used as a sweetener in certain gums and candies. Not only does xylitol boost saliva flow it also inhibits the growth of bacteria and thus decreases your risk of disease.
And speaking of reducing bacteria and their effects, don't neglect daily brushing and flossing. These habits, along with regular dental cleanings and checkups, will benefit you just as much as your efforts to reduce dry mouth in avoiding dental disease.
If you would like more information on treating common problems with teeth and gums, please contact us or schedule an appointment for a consultation.