Posts for: February, 2019
By Skopek Orthodontics
February 16, 2019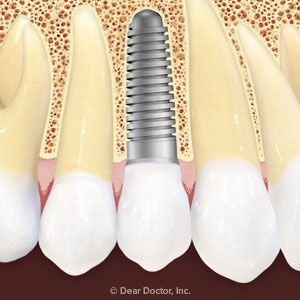 What's so special about dental implants — and why should you consider one to replace a missing tooth?
Although they've only been widely available for thirty years, dental implants have climbed to the top of tooth replacement choices as the premier restorative option. Since their debut in the 1980s, dentists have placed over 3 million implants.
There's one overriding reason for this popularity: in structure and form, dental implants are the closest replacement we have to a natural tooth. In fact, more than anything else an implant is a root replacement, the part of the tooth you don't see.
The artificial root is a titanium post surgically imbedded into the jaw bone. Later we can attach a porcelain crown to it that looks just like a visible tooth. This breakthrough design enables implants to handle the normal biting forces generated in the mouth for many years.
There's also an advantage in using titanium dental implants. Because bone cells have a special affinity to the metal, they will grow and attach to the implant over time. Not only does this strengthen the implant's hold within the jaw, the added growth also helps deter bone loss, a common problem with missing teeth.
It's this blend of strength and durability that gives implants the highest success rate for any tooth replacement option. Over 95% of implants placed attain the 10-year mark, and most will last for decades.
Dental implant treatment, however, may not be possible in every situation, particularly where significant bone loss has occurred. They're also relatively expensive, although more cost-effective than other options over the long term.
Even so, implants can play an effective and varied role in a dental restoration. While single implants with attached crowns are the most common type of replacement, they can also play a supporting role with other restorative options. As few as two strategically placed implants can provide a more secure connection for removable dentures or fixed bridges.
You'll need to first undergo a thorough dental examination to see if implants could work for you. From there, we'll be happy to discuss your options for using this "best of the best" restoration to achieve a new, beautiful smile.
If you would like more information on dental implants, please contact us or schedule an appointment for a consultation. You can also learn more about this topic by reading the Dear Doctor magazine article "Dental Implants 101."
By Skopek Orthodontics
February 06, 2019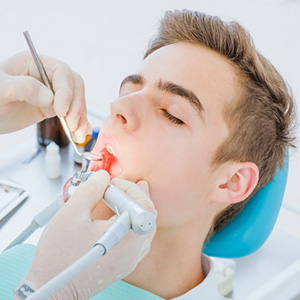 Long ago dental work could be painful and stressful—often for both patient and practitioner. Thankfully, that time is long past: today, most procedures are painless in large part due to local anesthesia.
Local anesthetics are numbing substances applied to specific areas of the body like the teeth and gums to temporarily block pain during a procedure. And because they only affect a localized area of the body, you remain conscious and alert throughout the procedure.
To achieve the level of numbing necessary for dental work, we often need to deaden the gums using a needle to deliver the anesthetic. But then this poses a secondary pain concern—the needle stick itself.
Again, topical anesthesia comes to the rescue in the form of a swab, patch or spray applying an anesthetic directly to the top layer of the gums at the injection site. This numbs the area and prevents you from feeling the needle stick. It's highly probable, therefore, that from start to finish you won't feel any discomfort during your dental work except perhaps for a little pressure.
Local anesthesia truly is a game changer for dental care—and not just for the patient. A dentist who's concerned about their patient's comfort level may work hurriedly to complete a procedure. But if their patient is relaxed, the dentist can work calmly and methodically. The result is better, more focused care.
For all its improvements in the patient experience, though, there has been one consistent complaint—the numbness that often lingers for a while after the procedure is over. But there have been advances in recent years that have helped reduce this irritation: new anesthetic agents (even some that can reverse the anesthetic effect) and fine-tuned dosages can help keep residual numbing to a minimum.
Not all procedures like routine teeth cleanings or enamel shaping require anesthesia. But when it's appropriate, local anesthesia can make your next dental visit much more pleasant.
If you would like more information on how anesthesia benefits your dental care, please contact us or schedule an appointment for a consultation. You can also learn more about this topic by reading the Dear Doctor magazine article "Local Anesthesia for Pain-Free Dentistry."